LIFE Series 2022
Click on address for directions 2488 Main St Ferndale, WA 98248
                FREE admission                FREE parking                FREE study materials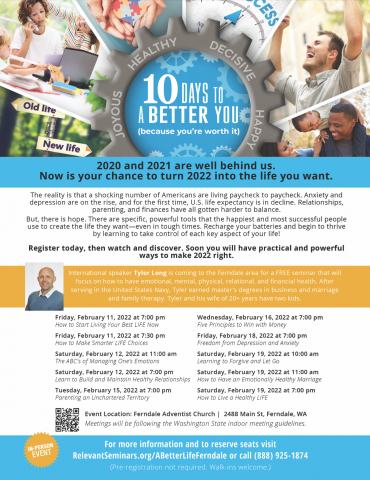 Group Classes after Meetings
Please plan ahead, so you can participate with us and you will have practical and powerful ways to make 2022 right.
After these series, Ferndale SDA Church and Lummi SDA Church will offering small group classes on three of these subjects:
1) Health & Wellness - Secrets That Will Change Your Life by Barbara Roberts on Zoom. Link to free book in .pdf click here. 
When: Every Wednesday evenings @ 6:30pm starting on February 23
Where: Zoom 
Zoom Link click here.
Meeting ID: 941 7396 9190
Passcode: 1234567
What: Topics include:
Designed for Something Better
Diet for a Lifetime
Are You at Risk? 
Fit for Life 
Healthy Relationships 
You Are What You Think 
Hope Beyond Depression 
Chapter 8 Breaking Free
Chapter 9 Bouncing Back
Chapter 10 Rest for Our Restlessness
Chapter 11 The Healing Power of Faith
Conclusion Health to the Max 
2)  Healthy Relationships by Liliana Sacdalan at our home.
When: Every Wednesday evenings @ 6pm on February 23, March 2, 30, April 6 and 13
Where: Lily & Pr Jesse home; click on address for directions 820 Blackstone Ct., Bellingham, WA  98226
What: Topics include:
Take Your Community Temperature Reading 
Stop Mind Reading and Clarify Expectations 
Genogram Your Family 
Explore the Iceberg 
Listen Incarnationally 
Climb the Ladder of Integrity 
Fight Cleanly 
Develop a "Rule of Life" to Implement Emotionally Healthy Skills 
3) Faith & Finance by Pastor Jesse Sacdalan at the Ferndale SDA Church and Zoom
Faith and Finance is a unique combination of the biblical principles of money management, the practical lessons of life, and proven academic information on this topic.
In this DVD set, G. Edward Reid, the director of stewardship ministries for the Seventh-day Adventist Church in North America, shares 12 lessons designed for families wanting practical, biblical information about managing their finances.  Link to a sample video here.
When: Every Tuesday evenings @ 6pm starting February 22th to May 17th for 12 weeks EXCEPT ON March 16 & 23 
Where: Ferndale SDA Church; click on address for directions 2488 Main St Ferndale, WA 98248 or on Zoom @ 
What: Topics include:
Why Money Management is Important to the Christian
Planning for the Cycle of Life
Giving: Tithe, Offerings, Helping Others
Dealing with Debt
Making a Budget
Training Children, Money and Marriage, Money and Singles
Major Purchases
Honesty, Integrity, and Work
Planning for Retirement
Saving and Investing
Inheritance and Estate Planning
The Rewards of Financial Faithfulness